Crown's Higher Floor Level
---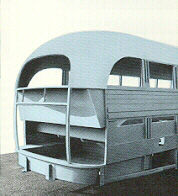 Crown's aerodynamic body design and extra high floor level make it possible to position the rear seat away from the rear body framework and safely above the crash level. In addition, the all-steel, heavily reinforced baggage compartment is an integral part of the body structure and is designed to absorb the main force of a rear end collision. Extra protection is provided by the rugged framework and the heavy duty bumper and the steel reinforced baggage compartment doors.
The triple body post assembly formed of 12 gauge, 90,000 psi Ultra High Tensile Steel, together with the full width 10-gauge steel apron, provide maximum protection in a rear side collision.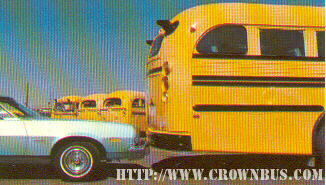 In a rear end collision, the main force of the impact is absorbed by the heavy duty bumper and the specially designed all-steel heavily reinforced baggage compartment.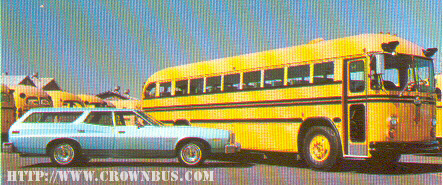 The safety advantage of Crown's extra high floor level has been proven many times. With traffic conditions worsening by the day, this feature deserves special consideration.
The information and pictures posed on this page were taken from the brochure "CROWN Supercoach . . . The Ultimate in Safety and Economy."