The Crown Supercoach,
an "Incredible Hulk"
---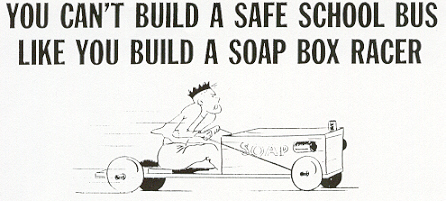 Which is the reason why underneath the beautiful body structure of the Crown Supercoach is an INCREDIBLE HULK!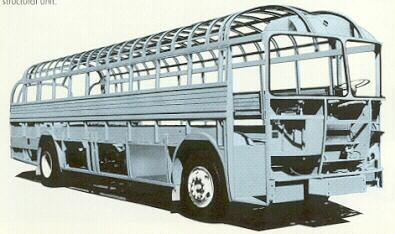 . . . a totally integrated superstructure of solid muscle! From one end to the other — with all the main structural members formed of 90,000 PSI ULTRA HIGH TENSILE STEEL. There are multiple body posts at both ends of the coach and there's a super-strong roof structure containing 22 roll bars in the 36' coach and 26 roll bars in the 40' coach — a roll bar every 17 and a half inches.
This incredible hulk is what sets the Crown Supercoach apart from all the others. It means greater safety and it means at least 20 years of trouble-free performance.
- December/January 1980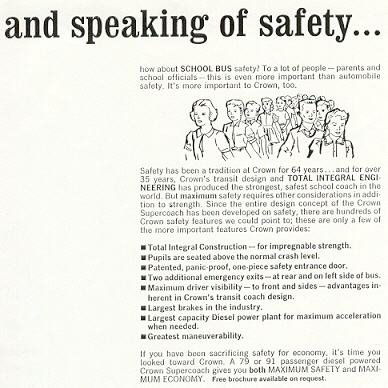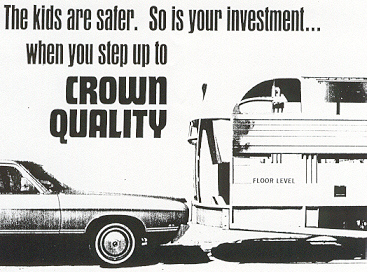 Crown Quality, above all, means safe transportation. One very important safety feature inherent in the Crown integral-transit design is the extra high floor level, seating the pupils safely above the point of impact in case the coach is struck by another vehicle. This feature has proven its value many times, and with the traffic conditions worsening by the day, it merits serious consideration by every school bus operator.
In the above photo of a partially completed Crown school coach, you can see the rear seat well above the crash level and away from the steel body framework. In the event of a rear end collision, the main force of the impact is absorbed by the specially designed, integrally constructed all-steel, reinforced, rear baggage compartment — effectively protecting the rear seat. Addition protection is provided by the steel reinforced baggage compartment doors and the heavy duty bar spring steel double bumpers (not shown).
Notice the triple body post assembly ahead of the rear seat. These body posts, like all Crown school coach body posts, are formed of 12-gauge, 90,000 psi tensile strength Ultra High Tensile Steel. Notice also, the addition full-width 10-gauge steel apron below the seat rail . . . for even greater strength and protection.
It's features like these that make Crown school coaches the safest investment you can make!
- August/September 1977
". . . The SAFEST SCHOOL COACH IN THE WORLD!"